---
SOLD!
Millers Falls Hand Drill No 2 - 1938 model - Elongated Handle
This release went into production in 1938 and lasted until 1957, when 2A version was introduced. It established itself as one of the best and stable models.
OUT OF STOCK!
Millers Falls Hand Drill Side Handles
Millers Falls Hand Drill Side Handle known as a "Mushroom".
These handles are made as a replacement for missing knobs on many MF No. 1, No. 2, No. 3, No. 5 and other Millers Falls hand drills. Turned in hardwood and finished in Red Mahogany Poly. Brass ferrule.
Take a Look!
---
Reading about Millers Falls and Goodell-Pratt Hand Drills
---
SOLD!
North Bros. Hand Drill 1530 with a
Ratchet Movement
Frame is malleable iron, with black finish. Instead of ball bearing the truston spindle is taken by a hardened steel bearing in lower end.
---
SOLD!
Millers Falls Hand Drill No. 2 Chuck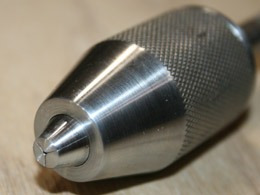 Replacement Chuck for Millers Falls Hand Drill No. 2. This chuck was designed to be used on drills produced between 1938 and 1957.
Below is an image of a spindle with dimensions for which this chuck is suitable. This chuck is fully functional but has a few scarrings on the shell.
---
Some emails I received recently...
April, 2019
I received the drill yesterday. It is absolutely stunning. Thank you.
Tray
---
August 18, 2018
Wiktor you outdone yourself.
The hand drill looks like it came out of a factory sealed box. Thank you so much for your craft and care that went into the drill. Well worth the wait.
R. C. F.
---
Thank you so much for your incredible work on my drill. I received it last week, and have been admiring it ever since. It is such a beautiful piece of craftsmanship that my wife wants to display it! So, I assure you that it will be put to careful, but good use.
Thank you again, Scott.
Some woodworkers and other potential users of hand drills and braces prefer a specific model or specific feature.
The best way to acquire the model you prefer is to pre-order a drill or a brace. Although the waiting time for your preferred item is quite long (36 to 39 weeks), this arrangement allows for specific selection for you and completion of my work at superior level.
To place an order, please select an item from the lists of specific products and send me an email with request. I will reply with description of the steps to complete pre-order. Also, please include your phone number and good time to call.