For those of us who buy old tools, one of the fantasies involves time travel. Wouldn't it be cool to walk into a hardware store in the late 19th century and buy a new Stanley Bed Rock plane off the shelf? Or how about an entire set of chisels from James Swan?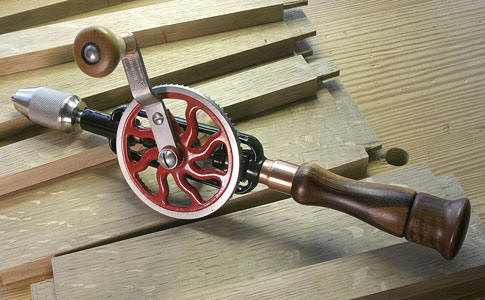 Until we build a time machine, we're just going to have to be satisfied with the work of Wiktor Kuc, who rebuilds hand drills to better-than-new glory.
Back in April I wrote a blog entry about a Millers Falls No. 5 that Kuc restored. Last week he loaned me a Millers Falls 2A for evaluation. I was so blown away by the tool, I had to show off some photos here on the blog. And I also decided to break the color barrier to do it.
And I wasn't the only one who was impressed. This drill was sitting on my desk a few days ago when Publisher Steve Shanesy stopped by. He picked up the hand drill and had a confused look on his face.
"Did Millers Falls start making these again?" he asked. "This is incredible."
Then Steve did what I did when I got the drill: He looked at the knurling on the chuck. I have a beloved 2A that I use all the time in my work and I thought my drill was minty. Apparently I don't know minty. The chuck on Wiktor's drill looks like it should still be covered in lubricant from the factory floor. It's just that perfect.
The entire frame has been repainted and baked. Not a flake or worn spot can be found. The wooden parts have been replaced with new turned parts , plus new ferrules. The only evidence I can find on this drill that it is not 5 minutes old (instead of 40+ years old) is that the drive gear has the slightest evidence that it was once pockmarked by rust. The rust is gone, but the tiny pits remain, if you look close enough.
In use, the thing is as good as it looks. All the gears mesh tightly and the crank handle spins with very little effort thanks to the thorough de-gunking from Kuc.
Of course, there is an ethical issue here to be debated. When I posted my last blog entry I received a fair number of private e-mails from people who were worried that restoration work like this could easily get out of hand. That anything other than a gentle cleaning ruins a tool's status with collectors. And even if it were a user tool in question, one should only do what it takes to get the tool running again. Removing the patina of use erases the tool's beauty and the evidence of the craftsmen who used it before.
These are good points that should be debated. Here's my take: I see these drills at every tools sale and flea market I haunt. They show up on eBay like clockwork. As far as I know there are enough of these drills for 100 museums dedicated to the great hand drills of Millers Falls.
Even someone with Kuc's work ethic shouldn't be able to deplete our supply of Millers Falls drills.
And Kuc is providing a service that might not be obvious. I love old tools and their patina, but there are lots of customers who will buy only new tools. I once spent a half hour begging a guy to buy an old brace instead of a new one. No matter how excellent (and inexpensive) the old ones were, he had to buy new. And this guy isn't alone.
So if you like old tools and want a vintage hand drill, here's what you should do: Visit OldToolHeaven.com , the best site for researching Millers Falls products. Pick out a few of the drills you like and start haunting the flea markets and online auction sites. I guarantee you'll find a decent drill for about $25 that will work with little or no restoration work on your part.
Or, if you like new and shiny, then visit WKTools.com and browse through his selection. Kuc has excellent taste in drills; I didn't see any of the low-rent hand drills that were intended for light-duty on his site. Just the premium iron.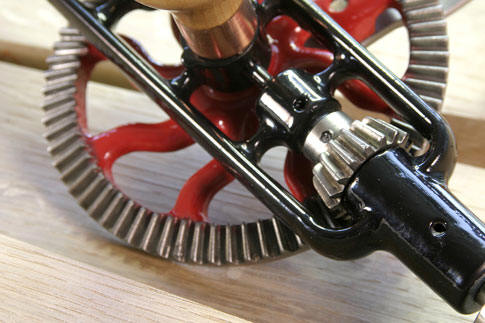 Christopher Schwarz
August 4, 2008
Chris is a contributing editor to Popular Woodworking Magazine and the publisher at Lost Art Press. He's a hand-tool enthusiast (though he uses power tools, too).
[This article is republished from Popular Woodworking website. WK]