The hand drill No. 2A was introduced in 1957. Our collection of catalogs does not go beyond 1949, consequently the description of this drill is based on a catalog released by Millers Falls Tool Co., an entity organized in 1982.
The Ingersoll-Rand Company, the owner of Millers Falls Company prior to 1982, sold all hand tool business to this new entity. The image below is from the catalog published by this new organization - a Millers Falls Tool Co. Incidentally, the image below shows 2A model number stamped on the crank plate but the description is for model 2-01.
This review is a "catalog" presentation only and detailed review of the 2A model will be presented in the future.
Millers Falls literature describes this drill as:
Sturdy iron frame and machine cut gear with 4-1/2 : 1 gear ratio. Hollow hardwood handle holds eight drill points: 1/16 to 11/64 included with tool. Main and side handles made in tropical hardwood, stained and lacquered. Side handle is detachable. Ball thrust bearing on spindle; three-jaw, spring chuck adjustable from 0 to 3/8 inch. Frame is enameled black and drive gear enameled red. Bright parts are nickel plated.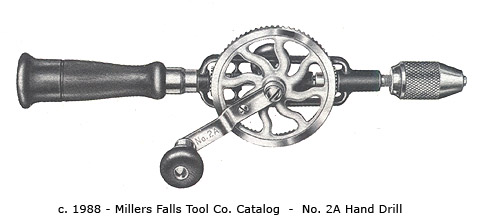 Data Summary:
Model No.
Design Type
Frame
Bearing
Chuck

Paint
Handles

Length
Weight
Standard Equip.
Prod.
Dates

2A

2 pinion
1 speed
Die-cast iron
One Ball
3-jaw, spring
0 - 3/8 inch
Frame - Black
Gear - Red

Stained Hardwood

14 1/5"
2 1/5 lb.
8
drill bits
1957
1968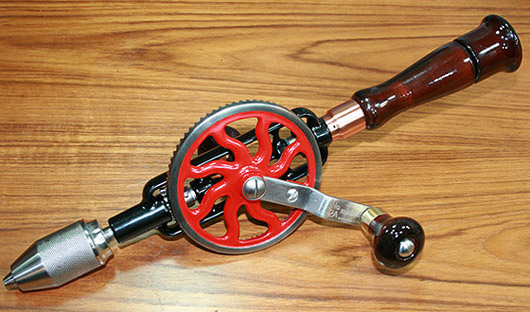 Face view.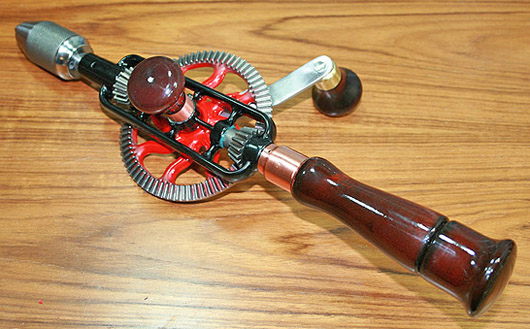 Back view.
Main gear.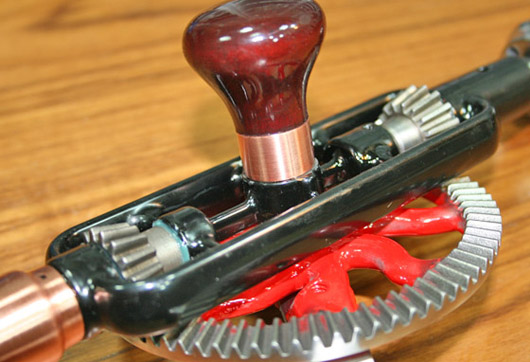 Both pinions and main gear-back side.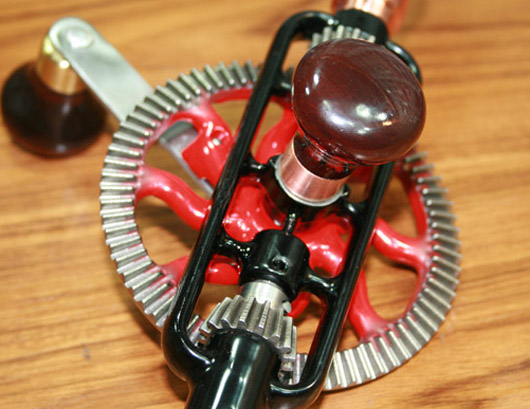 Main gear and driving pinion - back side.