The hand drill No. 2A was introduced by Millers Falls Company around 1957.(1) My collection of catalogs does not go beyond 1949, consequently the description of this drill is based on data from the catalog released by Millers Falls Tool Co., an entity organized in 1982. The Ingersoll-Rand Company, the owner of Millers Falls Company prior to 1982, sold all hand tool business to this new entity. The description and image below is from the catalog published by this new organization - a Millers Falls Tool Co.
Hand Drill No. 2A:

"Sturdy iron frame and machine cut gear with 4-1/2 : 1 gear ratio. Hollow hardwood handle holds eight drill points: 1/16 to 11/64 included with tool. Main and side handles made in tropical hardwood, stained and lacquered. Side handle is detachable. Ball thrust bearing on spindle; three-jaw, spring chuck adjustable from 0 to 3/8 inch. Frame is enameled black and drive gear enameled red. Bright parts are nickel plated."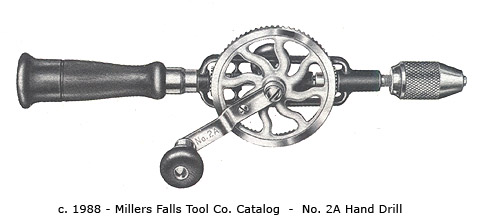 Data Summary:
Model No.
Design Type
Frame
Bearing
Chuck

Paint
Handles

Length
Weight
Standard Equip.
Prod.
Dates

2A

2 pinion
1 speed
Die-cast alloy
One Ball Bearing
3-jaw, spring
0 - 3/8 inch
Frame - Black
Gear - Red

Stained Hardwood

14 1/5"
2 1/5 lb.
8
drill bits
1957
1968
I have been fortuned to handle and examine in detail many samples of MF Hand Drill No. 2A. In majority of cases the drills look just as the one seen below. Some later production batches included drills with tigerwood handle, covered with reddish lacquer.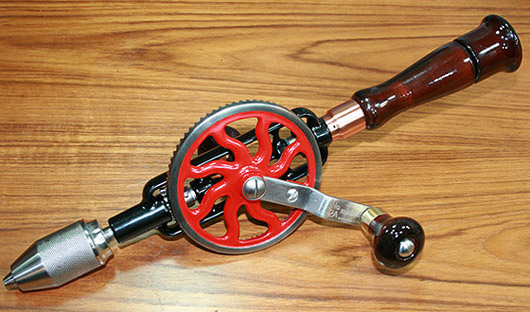 Major differences between this 1957 model and preceding 1938 edition are in the type of metal used for the frame, casting method of the frame, the size and appearance of the frame, and the spindle diameter.
The No. 2 drill released in 1938 and produced until 1957, (the introduction year of No. 2A) is made of malleable cast iron later machined to affect a few areas of the frame.

The No. 2A drill was built differently. The unspoken truth is that the 1957 model is not build of iron. The metal used was an alloy, popularly know as "Pot Metal" or "White Metal".

The above catalog description or any other source known to me conveniently avoids this subject. There is no record that I know of describing precisely and identifying the type of metal used by Millers Falls to produce No. 2A drill. For the sake of clear distinction and to establish clear terminology I presume that the alloy used was standardized "Zamak".

The casting was done in a die and this, in combination with properties of ZAMAK, produced highly accurate shape of the drill frame.

POT METAL AND ZAMAK

Pot metal, also known as white metal, die-cast zinc, or monkey metal, is a slang term that refers to alloys that consist of inexpensive, low-melting point metals used to make fast, inexpensive castings. There is no scientific metallurgical standard for pot metal; common metals in pot metal include zinc, lead, copper, tin, magnesium, aluminum, iron, and cadmium.

Zamak (formerly trademarked as ZAMAK[1] and also known as Zamac) is a family of alloys with a base metal of zinc and alloying elements of aluminum, magnesium and copper. Zamak alloys are part of the zinc aluminum alloy family; they are distinguished from the other ZA alloys because of their constant 4% aluminum composition.[2]

The name zamak is an acronym of the German names for the metals of which the alloys are composed: zink (zinc), aluminum, magnesium and kupfer (copper).[2] The New Jersey Zinc Company developed zamak alloys in 1929. While zinc alloys are popularly referred to as pot metal or white metal, zamak is held to higher standards.

The No. 2-1938 frame. The width of the outside beam is 0.3 inch.

The No. 2A-1957 frame. The width of the outside beam is 0.5 inch.
The appearance of the frame changed in comparison to the No.2 -1938 model. The outside beams of the frame are much wider then in 1938 edition (see comparison images above). I believe this change was introduce to compensate for lower strength of the "pot metal" and the need to make frame more sturdy.
---
(1). Millers Falls Home Page - Website of Randy Roeder