Most likely any drill from this period found today will look similar to the one on the photos below. I included these photos to show how a drill can be transformed from quite a revolting looking tool to a drill that is not only useful but also pleasant to handle around the shop.
Before Clean-up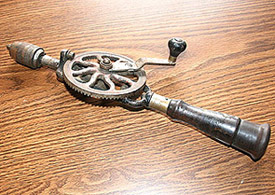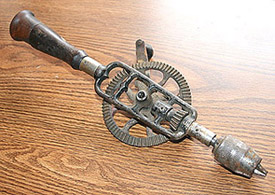 This is a typical No. 2 hand drill released in 1903. Well known design based on one pinion and "Friction Roll" with rosewood handles.
The main handle is designed for the first time with flat cup and was advertised as an improvement in case drill is used as a "breast drill". This particular specimen did not have side handle when it was purchased, but I have a replacement handle that I will use in final assembly.
| | | |
| --- | --- | --- |
| The view from the side-handle side. Although not as impressive in appearance, this drill has all parts in good order and can be restored to much better and useable condition. | | The gear is attached to the shaft with simple machine screw resting on a washer. Crank handle has no marks of any sort and the only marking for this model appears on a chuck. Crank knob is made in Rosewood, just as the main and side handles. |
| | | |
| --- | --- | --- |
| The drill is equipped with spring-less chuck developed and patented by William H. McCoy. The patent was issued on September 29, 1896 with number 568,539. The patent date is stamped on the chuck's shell. Detailed review of this chuck and it's construction can be seen here. | | The well known "Friction Roll" is installed in the mounting bracket. We can also see some nickel plating under the paint. The spindle housing is not painted. |
| | | |
| --- | --- | --- |
| This is a view of the frame after light wash with kerosene. The nickel plating is well intact and covers all frame body and gear. | | View of the frame and gear after all paint was removed. Nickel plating is mostly intact and survived over hundred years. |
On the following pages I will describe in detail parts of this drill and their function. There are several unique design features of this release that make it, in my view, one of the best Millers Falls hand drills.
This review and my conclusions are based on handling and restoring over five hundred drills made by Millers Falls, Goodell-Pratt, and North Bros companies.
After some cleaning, polishing and painting the drill looks a bit more friendly. The frame was cleaned, rust-proofed, and painted with black, gloss enamel. I also painted the gear wheel with red, gloss enamel and baked both parts in the oven.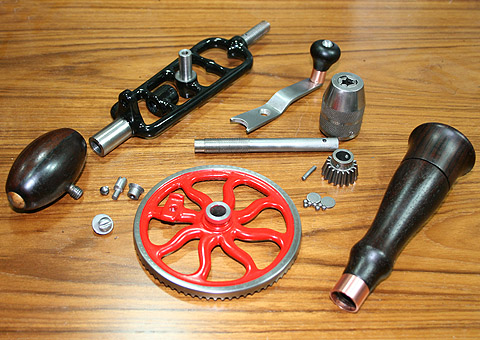 Here are all parts of the drill. I will review them in detail.
The Frame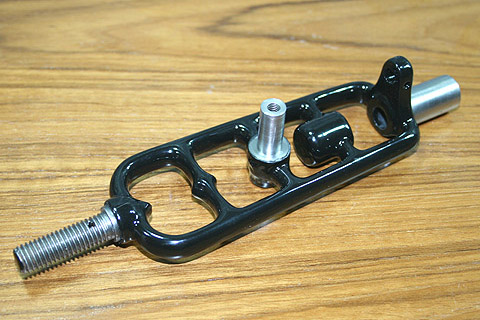 This is a view of the frame from the gear shaft side. I polished the spindle housing, gear shaft and handle attachment screw before painting. During painting these parts were protected with masking tape.